Making outdoor recreation more inclusive: Interview with Outdoor Afro's Antoine Skinner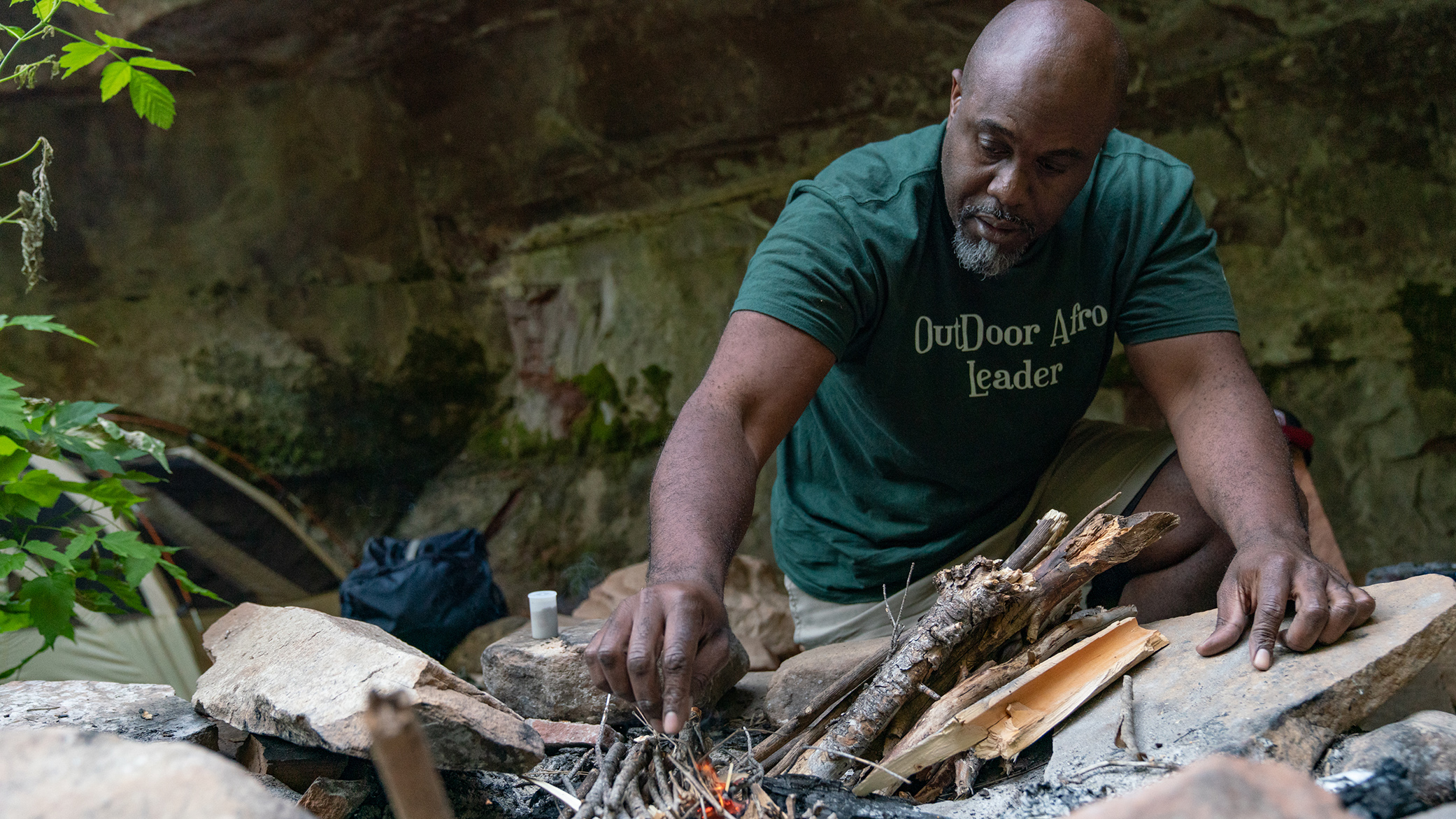 I loved being outside. My first camping trip was on Treasure Island, in the middle of the Delaware. My dad took me camping and he's not a big outdoors person, so after he took me on my first trip he was like, "I support you and whenever you wanna go, I'll drop you off or whatever, but I'm not camping anymore." It was a lot of fun, he'd take me fishing and stuff, but he wouldn't take me camping after that.
MAE: How do you feel when you're outside? What does that mean for you?
AS: For me, being outside is freedom, I don't feel judged. I don't feel like there's anything holding me back, especially being a Black man in society, and I'm a big guy. A lot of the time, I cannot react, and cannot show the way that I feel. I can't always show my frustration or anger, because it can be taken as a threat. But being outside, I can just be free. I don't have any worries, I don't have to think of anyone judging me. I don't have to worry about where I'm going, what I'm doing, I can just enjoy what God has created. His beautiful artwork. I mean, this is probably the closest you can feel to the Creator, is being in his Creation.
MAE: What would it take for white folks to not react the way they do to you on the trail? What do we need to do as a country to get to a point where there isn't a negative reaction?
AS: It's bigger than the trail. It's bigger than the outdoors. This country was built on racism and separatism. Literally. We call it patriotism but it's not. It's piracy. We came in and took land from people that lived here and then called ourselves patriots because we had to radicalize and kill "the savages." And we call that patriotism. Now if folks hear that, they'd say I'm un-American. I do love this country. I've had more opportunities here than any other place in the world, but it can be better.
But again, it's bigger than just the trail. For decades, these types of outdoor spaces have not been welcoming to people of color. Look at the integration of pools, the integration of beaches.
Any time you went to a national park, where did you see Black folks? They were the help: cooking and cleaning; they were the porters on the trains. People don't know their history, and the parks don't promote that history: African Americans were a part of building the national parks. The first park rangers were Buffalo Soldiers! And yet still, the image of a park ranger is a young white male. But the original park rangers were Black men. Some rode bikes from St. Louis to the Grand Canyon. So, someone telling me that we don't belong in this environment when we protected the white people who were coming out to be a part of the environment? Doesn't make sense.
MAE: How do you stay excited about taking people outside?
AS: What keeps me motivated is people. People that follow me on social media, they see my pictures, they see my recent backpacking trip. People are just excited to see where I go. But not just that. When I take a person out, or take people out, I'm motivated just to see their faces when they experience what I've probably experienced a thousand times. It's exciting to see that light, that spark go off in someone, and open them up to something new that they can experience and enjoy. That's what really keeps me motivated. And then the fact that taking people to nature is for everyone.
And making sure that those images exist, whether it's pictures of myself or places that I go, because there's some kid that's dreaming about it, like when I was as a kid — a kid wanting to go to these places, but many kids never see anyone that looks like them in the place.
So that motivates me as well, I want people to see me do the things I do, whether it's crazy or dangerous, I want them to experience it and say, "You know what, I can do the same."