Elevating Latinx voices and leaders in conservation
Interview with Hispanic Access Foundation's Chela Garcia Irlando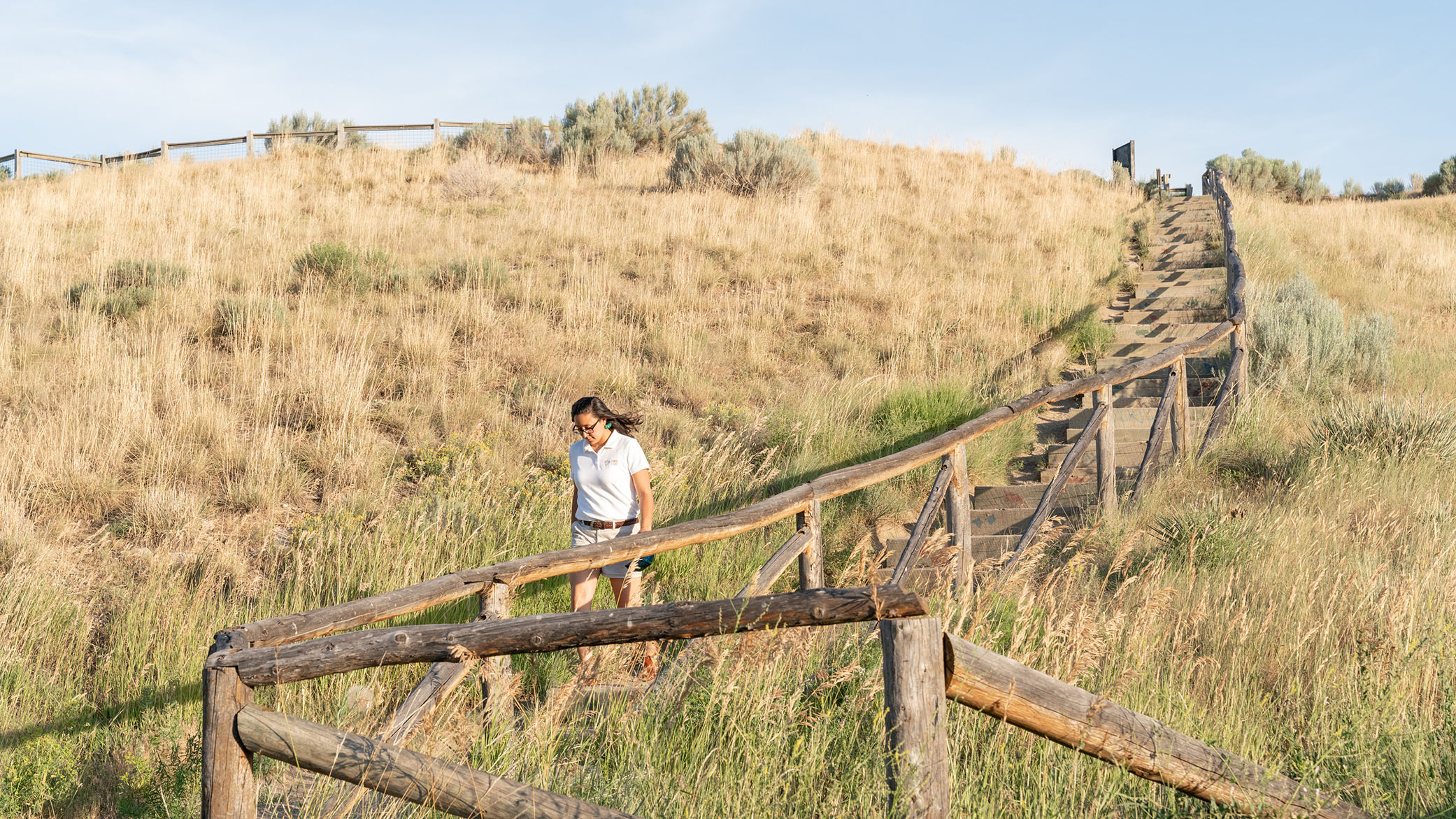 Irlando is the Director for Conservation Programs at the Hispanic Access Foundation, which created Latino Conservation Week as an initiative back in 2014. Since Hispanic Access Foundation's inception in 2010, its strategy has been multifaceted, aiming to elevate Latinx representation in leadership roles throughout society, consistent with its central mission to facilitate access and opportunity. In addition to hosting Latino Conservation Week, Hispanic Access Foundation's conservation program has helped advance protective policies and funding for America's public lands—building community engagement and leadership on conservation policy issues through environmental films, a fellowship program, a faith leaders network, and advocacy trainings.
Irlando lives in Denver, which she loves for its access to the outdoors. An experience as a camp counselor inspired her graduate studies in environmental policy issues. At the camp, she saw up close the benefits of bringing folks—especially kids and young people—outdoors, and she wanted to help build pathways so that underrepresented communities could be represented in the outdoors and in leadership positions, advocating for these places.
Crucial to her perspective was her own upbringing. She'd seen the positive effect of having a childhood spent outdoors. As a child, outside of her home in Texas, she would spend afternoons picking pecans with her grandmother, and weekends riding bikes with her two brothers.
Her maternal grandparents and family were activists in the labor movement. Her mother taught Irlando that if things were wrong, then it was up to her to make it right. Their focus was on making sure that folks were treated with respect, fairly, and with dignity. Her father imparted a belief that even though it was great if one person could break free of a broken system and rise, what good was it, really, if that system stayed the same? By extension, if Irlando could rise and summit a mountain, what good was it if she was the only one who could?
Under this multigenerational lens, Irlando sees her work holistically. Conservation falls short when it only focuses on land; it must also take into consideration people, their truths, their histories, and undoubtedly, their futures.
If Irlando's repertoire of work is any indication, at 26 years old she's only just beginning. Prior to joining Hispanic Access Foundation, she ran the successful campaign electing Serena Gonzales-Gutierrez to the Colorado state legislature. When the nonprofit Latino Outdoors was just starting off, she served as Regional Coordinator for its Colorado activities and established its base of volunteers, partnership networks, and events. She's also become known as one of the dedicated and fierce leaders of Brown Girls Climb, the women-of-color led organization breaking the paradigm of the traditional climbing community.
Through her work and personal life, Irlando's character exemplifies a core intention: it isn't enough to spend time outside if only a privileged few have access.
Michael A. Estrada sat down with Irlando after a Latino Conservation Week event to discuss how she's working to make the conservation movement and access to the outdoors more accessible to Latinx leaders and communities. The following interview has been edited for length and clarity.
Michael A. Estrada: How do you define conservation?
Chela Garcia Irlando: I define conservation as taking care of people, communities, and the environment that sustains us. I don't see taking care of nature and the environment as separate from taking care of people and their communities.
MAE: What's your overall goal, working in the conservation movement?

CGI: I want to make sure that the people who look like me and identify as I do feel like they have a space in these places, whether in the conservation movement or in outdoor recreation. My passion, my ambition is to continue inspiring and giving my knowledge and resources to women of color and Latino communities to make sure that they have the capacity to flourish.
The big thing is building capacity within our communities to make sure that people feel like they are welcome and that they do have the knowledge and expertise within themselves and within their community to take action. It takes resources and it takes a village to make change happen.
The work I do at Hispanic Access Foundation or in any of these groups is never my work. It's a collective effort to make sure people have the resources, the knowledge, and the skills to make their own decisions and to advocate for themselves, and also to enjoy themselves outdoors. We have the expertise within our communities to speak for ourselves, represent ourselves, and to speak our truth.
MAE: What's a project that you're excited about?
CGI: Latino Conservation Week is probably my favorite project that we work on because it celebrates and highlights Latinos as conservationists and stewards of these special places. It's a beautiful way of acknowledging our contributions to the conservation movement but also acknowledging the intersectionality of our issues when it comes to conservation. There are events that range from hiking, camping, and rafting, to film screenings about different conservation issues, stargazing, and a scorpion hunt. It gives us an opportunity to engage families and communities in the outdoors but also to celebrate our contributions to the conservation movement and recognize that this is a part of our communities, this is a part of our passions, and we care as much about these places as any other American.
MAE: Conservation doesn't have an inclusive history. How do you see your place in it today?
CGI: I think there's a place for everyone in the conservation movement. I see my place as making sure that people feel welcome for their experiences and feel welcome for the way that they want to address the issues that are affecting them, in their own way. The Hispanic Access Foundation works across the spectrum with a variety of Latino communities—from rural places, from urban places, conservatives, progressives, young, old, people who identify as Central American, or Mexican, or folks from the Caribbean. So through Hispanic Access, I really strive to make sure that we serve as a platform for these voices and for these leaders, to make sure that they don't just have a seat at the table, but that we are the ones making decisions for the protection of our clean air, water, wildlife, and public lands.
MAE: Why has community made the work meaningful for you?
CGI: For a couple of years I worked as a camp instructor for a summer camp in Westwood, CO.  We did a range of outdoor activities to engage the kids in nature. Although I had lived in that community for a while, I think that seeing the kids every day and getting to know their families and their stories, and being able to make them feel comfortable outside, really played a role in me wanting to go into this field. I knew that not every one of those kids was going to go into a natural resources job, but if I could inspire one kid to even just consider becoming a park ranger then I would feel like I succeeded. And this still motivates me to this day. Knowing that if we as Latinos just had access to these opportunities as kids, then we would be much more well-represented in the fields of conservation and natural resources. And that would mean we'd have greater ability to speak up for and defend our clean air and water, the wildlife, and the outdoor places we love.
We know the issues that affect us, but we might not know the underlying intricacies of why they're affecting us. We know we disproportionately live next to oil refineries and we know that's why our kids have asthma, but do we know the complexities of how to advocate for ourselves, talk to the decision makers, and make sure our voices are heard—or even be the ones making the decisions? Do we know how to get into those fields to make sure future generations don't have to deal with that challenge? I think we're getting there through my colleagues and partner organizations but I'm motivated when I see the faces of young people who will be impacted in the future if I don't act.
I want to change the policy decisions being made, and my focus is on building capacity for folks to speak for themselves, advocate for themselves to make their own decisions, and determine things for themselves. Determine how their community operates or how the political and policy systems that determine their daily life operate.
If you look at any field, whether it's education or health care or conservation, people underestimate that communities and people know what's best for themselves. It's a matter of having the resources and the capacity and the positions of power, that's why leadership is so important because we know what's best for ourselves, our communities know what's best for ourselves. It's about having the resources and leadership in those positions, and the capacity to act on that, to do what is best for ourselves.
MAE: What keeps you motivated?
CGI: What keeps me most excited, on a personal level, are my nieces and nephews because I want to make sure that they have a world that they can not only live and survive in, but they can thrive in and enjoy as I have. I love to be outside rock climbing and rafting and right now I can still breathe the air that we have around us, but I don't know if that will be true for my nieces and nephews when they're older. So, what motivates me is fighting to make sure that they have a future.
MAE: If you were to look back in 40 years, what's something that you'd hope to see has been accomplished or as a success?
CGI: I hope that we've transitioned away from fossil fuels in a way that takes care of communities and includes communities that traditionally haven't been included in our economic system, everything from jobs to education to health care. The conservation movement doesn't always take into consideration all of these intersectional issues that determine how our economy and our society work. Ultimately, in 30 or 40 years I would want to see a society that's holistic and takes into consideration all of us.
MAE: If you had to summarize your work in three words, what would they be?
CGI: Self-determination, comunidad, y corazón.