Supporting women as leaders in the conservation movement
Interview with sportswoman Becca Aceto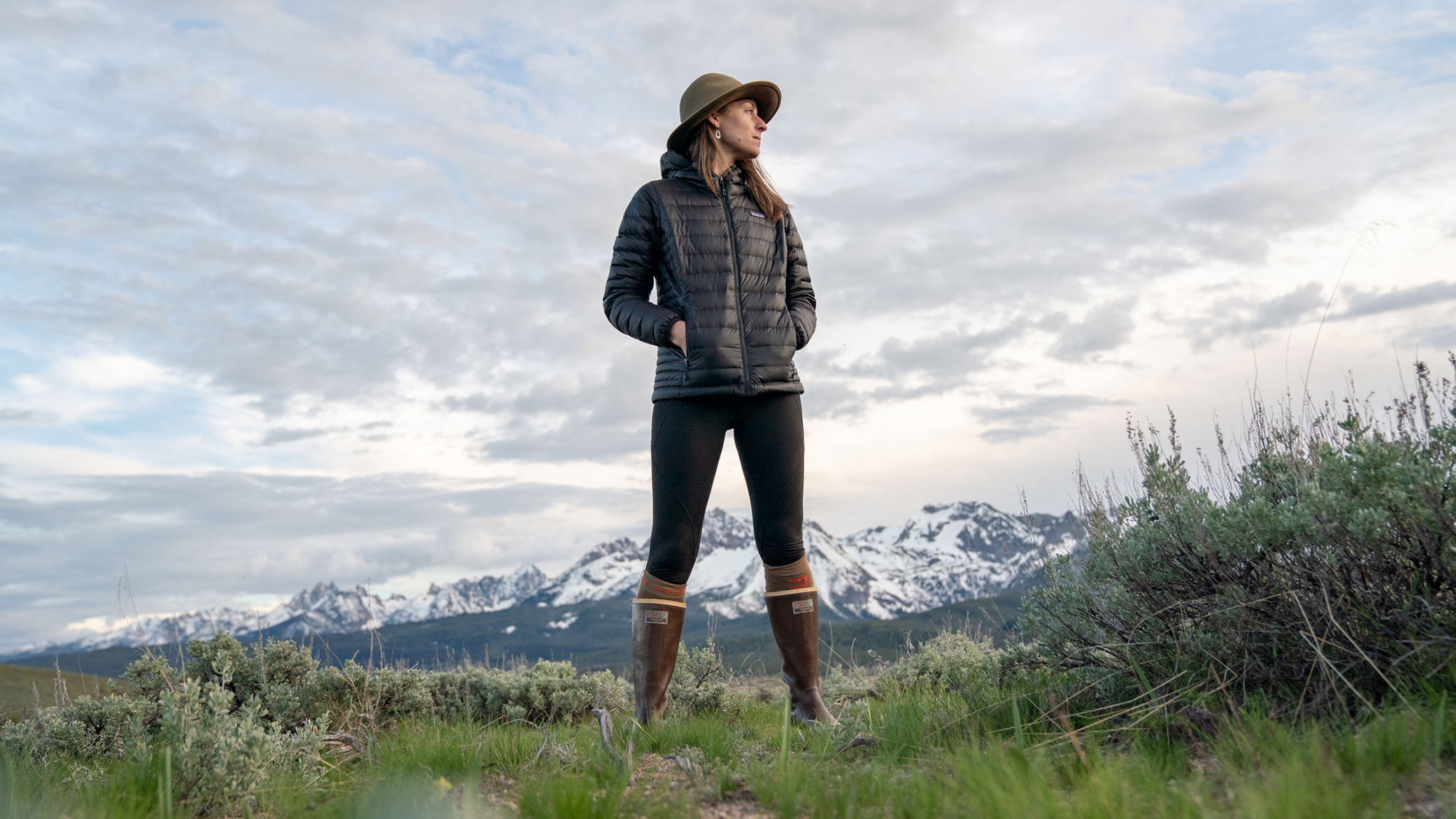 This is the second in a series of profiles of inspiring conservation stewards by Michael A. Estrada. Read the first interview with Bears Ears Inter-Tribal Coalition's Carleton Bowekaty.
Becca Aceto is a hunter, angler, conservationist, storyteller, and all-around public lands steward living in Boise, Idaho. At 28, she's working to conserve the wildlife and public lands that give her food, peace, and beauty while making sure that the voices coming to the conservation table are diverse, new, and readily welcomed.
Originally from the suburbs of southwest Ohio, Aceto credits her childhood as the inspiration for her conservation work today. Her parents encouraged Becca and her siblings to explore: "They would kick us out the door after school to go roam until nighttime," she remembers fondly. The local park offered some of her first experiences outside: fishing bluegill with a simple stick or searching for snakes in the brush.
After graduating from the University of Kentucky with a degree in natural resources, Aceto began her journey into conservation. She worked as a naturalist at the Sawtooth Interpretive and Historical Association, a wilderness ranger with the Payette National Forest, and then spent three years as a field biologist with the Sawtooth National Forest. In 2017, she began hunting. "One of the big turning points in my life was when I started to hunt. It added this incredible layer to what I thought was a very full life spent in the outdoors."
Today, Aceto is an Ambassador for Artemis, an initiative of the National Wildlife Federation that seeks to create space for women to support one another as hunters and anglers while uplifting their voices to the forefront of the conservation movement. During the week, she works as the communications and outreach coordinator for the Idaho Wildlife Federation.
Michael A. Estrada sat down with her to discuss her work in conservation and how it's been shaped by her love of hunting. The following interview has been edited for length and clarity.
Michael A. Estrada: What does hunting mean to you?
Becca Aceto: My answers are always a little different because it's evolving, but for me it's about connection and responsibility.
Two years ago, it meant my ability to have food through the winter and the rest of the year. If I'm going to eat meat then I'm going to try to do it in the most responsible way I'm able to, which I believe to be hunting.
A year ago, hunting meant learning, growing in my ability as an outdoorsman to connect with the land, and understanding my place in it. I'm also a naturalist at heart—I enjoy being in nature and learning about the landscapes, the plants, the animals, the geology, and then taking that information and sharing it with others. My preferred method of procuring food also goes hand-in-hand with my preferred method of recreation, and both are able to be shared with the people in my life. So, after a successful hunt, when the food finally reaches a plate, I'm connected to it through every step of the process—from life to death to sustaining myself, friends, and family through a meal. Hunting is not for everyone, but it's given me a renewed appreciation of food and a joy in sharing meals, stories and the entire process with those that I love. Before hunting, I never felt the same way toward food I bought at a store.
Both of those things are still true. Now, after having worked in conservation for a little while, it means community. Hunting and hunters are my little group of people. It's also turned into more of a lifestyle than an activity that I do occasionally. It affects the way that you think about the natural world anytime that you're out there, whether you're hunting or not. When I'm out morel picking, and I see tracks, I start to think: Where did this animal go? What are they doing? What are they feeding on? What is their routine? Where do they spend their evenings? Their mornings?
MAE: What do you think has made you successful as a conservationist?
BA: One of the big things is that I grew up with parents who respected everyone. They didn't look down on others just because they were different or held different beliefs. I've taken that into my career in natural resources and conservation, and I always come to a table with the intention of listening. I try to make sure that I'm never coming into an interaction with someone else expecting only to speak my opinion and not allow someone else's opinion to change or influence my mind.
In a lot of these circumstances, if you really want to make positive change, you have to bring everybody to the table, you have to give everyone an equal voice. That's something I've always felt strongly about.
MAE: Why is conservation important?
BA: Conservation is this constant jab reminding people not to forget about wildlife and open spaces. It's here, it is worth protecting, it is worth my time, my whole professional career. It's worth your time to enjoy it and to also work to protect it as much as you can. It's good to have people working out here to remind the public that [these places] need protecting and make sure it continues.
MAE: Why do we need to bring more underrepresented voices into the conservation movement?
BA: I think it's extremely important to start bringing as many new ideas as we can into the outdoor community and conservation because it's been homogenous for so long. There's a little bit of diversity but the hunting and angling communities are not keeping pace with the rest of society, or even other outdoor activities, like climbing, hiking, or biking.
If we're going to continue to promote public lands, fishing, and sustainable lifestyles that involve the land, spending time outside, and harvesting your own food, then we have to allow ourselves to have new ideas, and to do that, we have to have new voices. We have to promote voices that haven't been elevated yet and oftentimes, in an industry that's dominated by white males, that means women, people of color, young people; that means breaking that status quo.
MAE: Why is Artemis and its mission important? Why do the voices of women matter?
BA: Artemis is crucial for playing the role of a safe, welcoming, encouraging place for women who wish to wade into hunting, fishing, and conservation, or who want to grow within the community. It's a community where immense individual growth can happen and where the hopes for the future vision of the conservation world can be modeled. As unique individual voices and powerful, supportive, passionate collective voices, the women of Artemis (and conservation in general) bring with their voices a new narrative of progress, inclusion, and passion. Some of the strongest, most unique, and forward-thinking voices I know in conservation are those of women, not because of their gender, but because they are fiercely passionate about this work. That spirit right there is what Artemis embodies.
MAE: What keeps you motivated in this work?
BA: We have all of this public land—640 million acres of it—that doesn't exist anywhere else in the world, and there's not a day that goes by that I take that for granted. I never will. That's what keeps me motivated. Knowing that we have this and working my ass off to make sure that it stays this way.
MAE: What's a goal you have for your work, your career?
BA: I hope that I continue to be someone who fights for the places and the experiences that have given both my professional and personal life deep meaning. A windblown ridgeline above an alpine lake, a vast sea of sagebrush rising up to meet a mountain range of 12,000 foot peaks, a free-flowing, wild river with osprey and bald eagles above, trout and salmon within—these are the landscapes that have and will continue to shape me; places that I share with anyone willing to join in the hopes that their own lives will be changed, too.
On my watch, during my career, I hope the wins for the land and wildlife always outnumber the losses. And my deepest hope is that humanity continues to foster this appreciation through education, enjoyment and shared experiences because in the end, the more people who care, the better chance we have to preserve wild things and wild places long after I'm gone.
Michael A. Estrada is a first-generation, Salvadoran-American photojournalist and artist. His work falls at the intersection of environment, justice, art, and the representation of people of color in media. He is also the founder of Brown Environmentalist.