Organizing strategies to shift the economic paradigm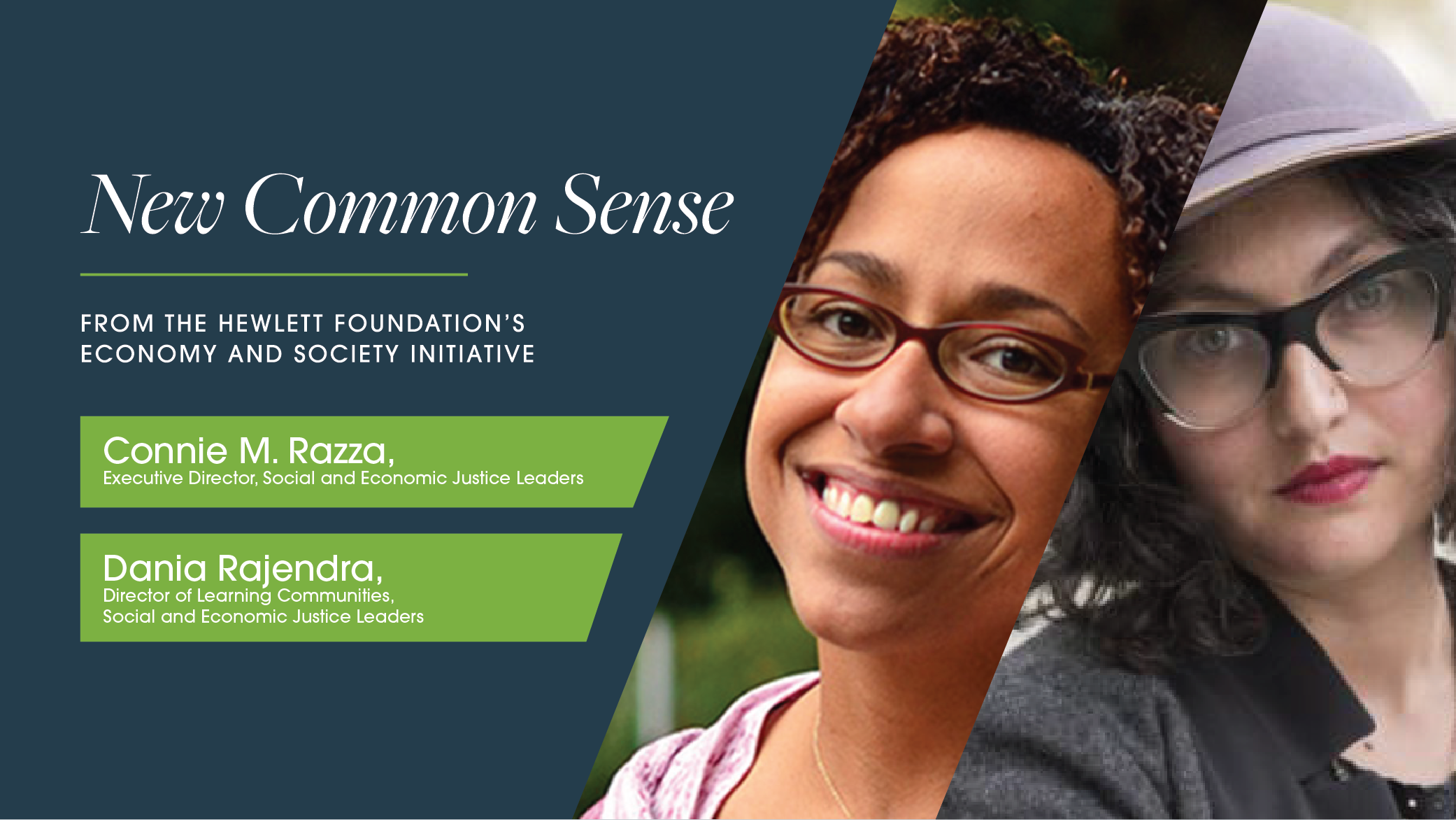 Even so, we believe such progress — and other creative, shovel-ready policy ideas — would be more robust had organizers and theorists come together sooner and more fully.
At the Social and Economic Justice Leaders Project, we are working to bridge this gap, and connect these two groups working at a common purpose from different angles. Our new Paradigm Shifting Strategies (ΔP) project brings together academics, other policy designers and researchers, and organizers and campaigners to develop a more comprehensive strategy to replace neoliberalism as the guiding economic paradigm. This work supports campaign designers to more fully consider the conditions under which they design and execute their work.
"I really value thinking with academics and other practitioners at the scale of systems change," said participant CJ Grimes, executive director of WorkMoney. "Just the first two meetings are already having an impact on our program." Grimes also noted that the cohort gives her an opportunity to situate WorkMoney's qualitative and quantitative engagement with members. That opportunity both informs other organizations' context and provides new opportunities for collaboration, experimentation, and shared evaluation.
"Relationship before task" is a truism among organizers, and ΔP is supporting new relationships, even among long-time colleagues, by using deeper study and shared analysis as the basis for new or deepened relationship.
"Neoliberalism was a political project that was moved by various organizations and political actors," noted PowerSwitch Action's executive director, Lauren Jacobs. "Its undoing will be the work of a collection of organizations and political actors. The paradigm-shifting project is the foundation of this work." PowerSwitch Action has spent the last several years developing a long-term vision across their network. "This cohort allows us to align our long-term vision in a broader array of political actors. We can see which pieces are resonating where, and also what others are doing that we might not need to. That makes our own organization's efforts more impactful — and supports the flexibility and resiliency of the sector as a whole."
ΔP has brought together a cohort of scholars with front-line, state-level organizers and advocates (particularly those focused on economic justice, climate justice, racial justice and immigrant rights, and labor/worker justice), in an 18-month program of inquiry and experimentation. Together we conducted a deeper theoretical and historical analysis of neoliberalism, examining case studies on historical and contemporary efforts to shift paradigms — such as the transformation of the Keynesian common sense to neoliberal practice; contemporary efforts to roll back the anti-democratic neoliberal Chilean constitution; the sophisticated pro-neoliberal rhetoric and policy of Jair Bolsonaro; and U.S.-based examples that illuminate the diversity of neoliberal conditions by geography, demographics, and other factors. This cohort has given us all an opportunity to step outside of the imperatives, assumptions, and habits of our daily work and take a step toward a new, interdisciplinary vista from which to survey the terrain of generational, paradigm-shifting strategies.
Maine People's Alliance Deputy Director Ben Chin specifically noted the value in oscillating between the big and abstract and the specific and concrete implications from the work, or, between "relationship" and "task."
"In the day-to-day of campaigning, there isn't always space to hold the big, intergenerational picture, or to consider how what we're learning from that work informs where we are going — or should be going — as a civil society. This cohort provides a necessary complement, supporting us as practitioners to wrestle with all the most important big ideas that our movement needs to think through," Chin said. "I leave our discussions with specific ideas about how we can do our work better, along with a community of people interested in supporting and inspiring the work!"
In the first six months since launching ΔP, we have begun the hard work of retooling campaign strategy to meet the challenge of shifting the economic paradigm, which we recognize is likely to be a generation-long effort more than a three-to-five-year endeavor. Although campaigns play a key role in shifting the Overton window, building broad support for policy ideas and moving worldviews, many of the projects aiming to advance a beneficial post-neoliberal economic paradigm have not yet engaged deeply and systematically with organizers or with questions of campaign strategy. In order to accelerate this shift by bringing post-neoliberal ideas and practices to the public dialogue, the cohort is already beginning to:
Explore and test the methodologies for paradigm-shifting organizing practices.
Identify the gaps in our methodologies, capacities, and relationships, and what it would take to fill those gaps.
Provide the tools to engage more progressive movement organizations in the fight to show that neoliberalism is a bad paradigm and to invite their members, as well as policymakers, to a new economic paradigm in alignment with the scholars who are developing it.
Create a model for paradigm-shifting campaigns that can be used in other fields.
Over the next six months, we will begin to develop an organizing practice tooled to the long-term campaigns needed to bring a post-neoliberal economic paradigm into the mainstream. In particular, we are looking to move the place of markets from guiding ideologies to tools that support the connective tissues of society. We are already learning the importance of a political education practice that is ongoing and designed around building positive feedback loops between academics, researchers, and policy developers, and organizers, campaigners, and strategists.
As we learn from one another and develop shared analyses, we will move to the third phase of the project: experimentation. We will identify opportunities to develop and test together some of the strategies for shifting the economic paradigm. We also offer early analysis of "known unknowns," in particular in the context of the threats to democracy and their relationship to economic paradigms — as we are currently witnessing with passage of the Inflation Reduction Act and its implementation.
ΔP is dedicated to creating the conditions for movement leaders to envision how to shape the future and build relationships, which are deeply needed in their work. Cohort participants have already identified our skill at cultivating spaces, whether on Zoom or in person, that encourage high participation; rigor; and creative new approaches, ideas, and practices of alignment.