The teenage girl in surgical scrubs wanders the periphery of the classroom at the Thunder Road Adolescent Treatment Center in Oakland, California. Ignoring the teacher, she scowls and professes to study the posters along the wall. Teacher Kharyshi Wiginton returns the favor and ignores the girl.
"Check it out, ladies!" Wiginton, who grew up on the same streets as these girls, booms to the rest of the class. "I was up until 2 a.m. last night, and I am tired. I can't do this unless you bring some energy."
In this case, the requested energy is to be applied to reading a passage from Shakespeare's King Lear. "You can read it like a slam poem. You can read it like a hip-hop thing," she says, laughing. "You can even read it like it was an opera."
And, lo and behold, when the time comes for the girl in scrubs to read, she dutifully rejoins her group and offers a reasonably fluent account of Lear's "darker purpose."
Score a small victory for California Shakespeare Theater's Creative Risk, a program for juvenile offenders that consists of a succession of just such small victories.
The Thunder Road sessions are the newest of several that Cal Shakes (as it is familiarly known) operates for Bay Area juvenile offenders. A grantee of the Hewlett Foundation's Performing Arts Program, Cal Shakes is one of many grantees that, in addition to their regular performances, advance the Program's goal of serving low-income, diverse, and disadvantaged communities in the Bay Area.
Daunielle Rasmussen, artistic administrator for Cal Shakes, says the theater company first began holding workshops with Alameda County Juvenile Hall in 2005, when it participated in the Write to Read Program, which was led by the county library. Since then, is has collaborated with the juvenile hall on a succession of projects.
For the first time this spring, the company worked in Juvenile Hall's Unit 6, a special needs unit where many of the students are on multiple medications and suffer from a variety of mental and emotional difficulties. Over the course of twelve hours, Cal Shakes instructors worked with ten of these students, culminating in their performance of part of Hamlet for the unit's fifteen other residents.
"Throughout the course of this residency, we saw tremendous growth in the students' leadership, hope, optimism about the future, and collaboration," Rasmussen says.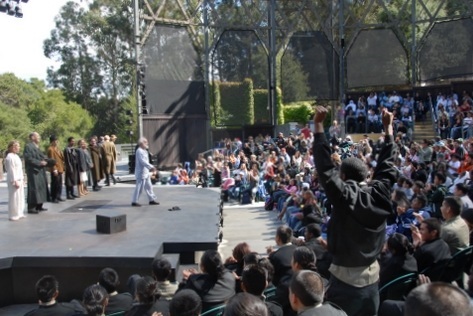 In addition to working with at-risk youth, Cal Shakes has a variety of programs to work with youth in the community. Here, an Oakland Military Institute student cheers a Student Discovery Matinee performance of King Lear. Photo courtesy of Jay Yamada and Cal Shakes.
A Source of Personal Growth
This summer, Cal Shakes offered eight sessions at Thunder Road, a residential treatment center that provides a mix of services for youth with dual diagnoses of mental health and substance abuse problems. Clients range in age from thirteen to eighteen and stay at the center from one to nine months. Half are referred by the juvenile courts, and half are privately referred. Many have been expelled from their schools. (The wearing of scrubs is a consequence of an infraction of Thunder Road rules.)
The Alameda County Office of Education runs the school in the facility and serves as Cal Shakes's host. The school year includes an extended summer session, and academic credits earned at Thunder Road are transferable to each student's school of origin. In the past seven months, the theater troupe has worked with more than 200 youth at Thunder Road and Juvenile Hall.
Cal Shakes instructor Wiginton met with the Thunder Road students for eight one-hour sessions (four each for boys and girls), each designed with a different goal. The first week involved getting to know each other and exploring the text. She continued that work the second week, adding instruction in building an ensemble.
"One thing this approach does is let students express some empathy by taking on other roles," says Rasmussen. "And coming in from the outside gives us a chance to be received differently than the regular teacher. The activities are voluntary, so they are deciding to buy in."
Making Shakespeare Relevant to Modern Issues
The theme in this session is integrity, which students explore through reading and discussing Shakespeare's text and performing what Wiginton calls tableaux, or still scenes enacted in small groups.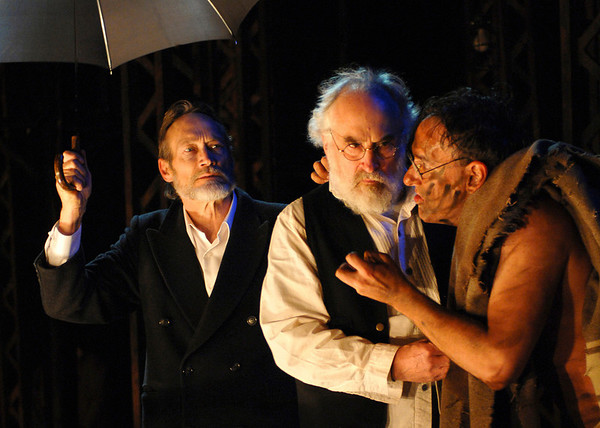 Cal Shakes uses a page from King Lear to teach students at the Thunder Road Adolescent Treatment Center about integrity. Here Jeffrey DeMunn, James Carpenter, and Erik Lochtefeld are captured in Cal Shakes 2007 production of the play; photo by Kevin Berne.
Wiginton is trained in drama and dance, but she demonstrates an intuitive sense of therapy and an ability to reach the kids where they live.
"Let's talk about integrity," she says. "What's the definition?"
"Do the right thing when no one is watching?" a tall girl offers.
"Right! Do you have homies, and sometimes you're with them, and you don't do the right thing? Like I'm with my homies at a school, and there's a new statue out front, and the guys go, 'Let's tag that up.' And I think, 'No, that's brand new.' What do you think the consequences might be if I don't do it? What will they do?"
"They might think you're square," a student offers.
"But is that integrity?" Wiginton persists.
"Yes," says the tall girl. "I agree with that." But then adds, "Well, not really, but for the sake of conversation."
It's not all victories.
But Wiginton is indefatigable. When another girl announces she's a poor reader, Wiginton responds, "When you say you can't do this, what are you really saying? Are you saying you're confident?"
"I don't care," the girl says, not buying the ploy.
"You gotta fake it until you make it," the teacher says, moving on and letting the message sink in.
Later, when the girls go and the boys' class shuffles in, Wiginton has them create and perform the tableaux. One on the absence of integrity features one of the boys beaten down and having his money taken.
When they are asked to share examples of adult actions without integrity, the world that helped land them at Thunder Road becomes clearer. They list on a large sheet of paper "bail jumping" and "smoking rocks" (meaning crack cocaine). On the positive side of their ledger are "being faithful to your wife" and "not letting your kids do whatever they want."
"Right," Wiginton says. "The idea is to become whole in every aspect of your life."
"Do you know about the generational curse?" she continues. "My family was alcoholic, and it's my goal to shift that so I don't pass it on to my kids."
She ends by asking the boys to raise their hands if they're willing to read at the final class one of the Henry IV excerpts on her handout illustrating integrity. Most are.
Cal Shakes Artistic Administrator Rasmussen says the small taste of theater is an emotional and intellectual outlet unlike any other for these students.
"It gives them a way to process what they see in the world so they can realize they don't have to act in a way that's been bad for them," she says. "The goal is to push them past what's comfortable."
Trying to Measure the Impact
These classroom encounters are brief, but, like theater experiences with Shakespeare, Rasmussen and Wiginton think they can have long-lasting effects.
Cal Shakes is developing an evaluation process for the new Thunder Road program to determine whether it is having an impact on participants. It also is refining assessments of its other youth education programs.
But in a report on those other programs, such as its work with student residents at Unit 6 at Alameda County Juvenile Hall, Cal Shakes officials noted what they described as "significant growth in behaviors, attitudes, and engagement in the activities [among students with] a range of social and psychological problems."
"They showed increased self-confidence, respect for each other, and skills around problem solving, teamwork, and communication," the report says.
It goes on to say:
These young people—accustomed to responding quickly and forcefully to anything construed as disrespect—had to learn how to avoid reacting to heckling and distractions from their peers while performing, and to create a safe, mutually supportive space for each other as they rehearsed their scenes together. . . . In the subsequent weeks we saw students put this into practice, and it became a source of pride to not be baited by the behavior. By the end of the residency, one particularly volatile girl became impervious to these distractions, and able to focus on the work without the need to retaliate.
Those changes came as no surprise to those who work in the Cal Shakes education programs. "We believe strongly that you can have a creative experience with someone that they will feel forever," Rasmussen says.