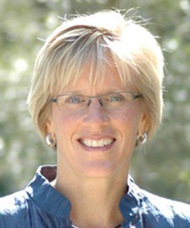 Susan Bell served as vice president of The William and Flora Hewlett Foundation from 2000 to summer 2012. During this time, she worked in a variety of capacities, from directing the Foundation's efforts to improve the practice of philanthropy to helping launch the ClimateWorks Foundation, an international grantmaking organization working to reduce greenhouse gas emissions.
This summer, she leaves the Foundation to become a senior advisor to the Ward W. and Priscilla B. Woods Institute for the Environment at Stanford University. In this interview, she reflects on her time and accomplishments at the Foundation and how it changed during her tenure.
What were your expectations for this job, and how did it surprise you?
It was a much more difficult job than I expected because it can be so hard to know if you are making a difference. A lot of the work seemed wonderful. How could you question its value when a lot of passionate people were throwing themselves at some of the world's most pressing issues?
Yet at the beginning, we had no real idea exactly what was changing as a result. We weren't even talking that language; I doubt many foundations were. So [Hewlett Foundation President] Paul Brest and I looked at each other after a few months, and more or less said, "This all seems great, but how can we articulate our goals and determine if we're making a difference?" We wondered if it were okay to even say that out loud.
But that led us to what today we call "strategic grantmaking" and the use of metrics to determine the impact of our grantees' work. Such thinking is much more common now than it was back then.
And did that suggest changes in grantmaking?
What Paul and I debated a lot, and sought a lot of outside counsel on, is whether it would be more advisable to pursue one goal deeply, or four goals less deeply, or even twenty goals in a more limited way.
We concluded that putting all of your eggs in one basket posed too high a risk, but that trying too many different things wasn't a good answer either. So we concentrated on finding the right number of grantmaking programs and the right level of focus in each. Today we have four major programs and a fifth, smaller one working on the practice of philanthropy, with each focused on a relatively limited number of goals.
What are the two or three proudest accomplishments of your tenure?
The first that comes immediately to mind is the Great Bear Rainforest project in British Columbia. Working with the Canadian federal government, the government of British Columbia, First Nation peoples, the private sector, nonprofit environmental organizations, and a small group of funders—including the Gordon and Betty Moore Foundation, the David and Lucile Packard Foundation, and The Nature Conservancy, among others—we essentially preserved 21 million acres of temperate rainforest and put in place a set of protections that will allow local communities to responsibly derive income from natural resources while keeping vast tracts pristine. It was a big, messy, complicated effort. All told, the negotiations took a decade. Today, this project serves as a great model for addressing other environmental challenges.
Another accomplishment I'm proud of is the creation of the ClimateWorks Foundation, on which I worked with [former Hewlett Foundation Environment Program Director] Hal Harvey. That entailed launching an international network of over a dozen organizations dedicated to working with governments, private industry, and nonprofits to change policies to reduce greenhouse gases worldwide. Dedicating half a billion dollars from the Hewlett Foundation and another half billion from the Packard Foundation—and then attracting additional resources to attack a global problem on a global scale—was simply unheard of. It is one of the single largest philanthropic endeavors ever. Of course, it will be a long time before we can judge its success, but I'm confident that it is the right approach. It's policy-based and nimble in directing money where the opportunities are.
The third accomplishment I'm very proud of pertains to the Hewlett Foundation. During my years here, I had the opportunity to help build two organizations: the ClimateWorks Foundation and the Hewlett Foundation itself. When I arrived, it was well run, but with about $1 billion in assets and just over thirty employees. Now, because of the additional endowment that followed the death of founder Bill Hewlett, the Foundation has more than $7 billion in assets and more than 100 employees. To accommodate that growth, we had to revise strategies for the programs, build and enhance the administrative structure, and determine at each step how to make everything as effective as possible. I spent my first couple of years here working with each of the programs to help them identify how they could effectively spend two or three times as much money as they had before. It was an amazingly fun challenge. And I could have had no better partner to learn from than Paul Brest.
I feel really hopeful about this organization. If the past decade was about building the modern foundation, we've done that. And now [incoming President] Larry Kramer and this team are well positioned, with the steady hand of the Board, to take things to the next stage.
What would you say characterizes the modern foundation?
The staff and culture we've built here are central to how I see a modern foundation. There is so little bureaucracy and so much passion for the work, including a focus on its impact. Another part of my vision of a modern foundation is the collegiality and fun that people have here while working incredibly hard on tough issues. Our people are leaders in the fields in which they work. For example, most of what we do in the realms of information technology and grants management is, or soon will be, the state of the art. And, of course, thanks to Paul's great leadership, we've carved a path in the whole approach of setting goals, measuring progress, and evaluating results in grantmaking. We haven't learned everything we need to, but now other foundations are also pursuing the same questions about effectiveness.
As you leave, what do you see as the biggest challenges facing the Hewlett Foundation?
Increasingly, so much of the work that we do, particularly on a global scale, depends on policies being adopted or changed. But making policy-oriented change, certainly in this country, where we're quite polarized, has grown increasingly complicated.
We really need to think about how to influence democratic systems in the ways that foundations can: through educating and informing. We also need to ask where we can most effectively encourage systemic changes. There are times, on some issues, when the involvement of the private sector is especially important in influencing policy change. We might need to shift our attention toward the private sector. And we need to think more creatively about how we approach some of the problems we try to solve. I think that is one of the biggest challenges we face.
How do you think the Hewlett Foundation might be different five or ten years from now?
I would guess that our work for social change will require even more complex partnerships of the public, private, and nonprofit worlds. To return to where we began, the Great Bear Rainforest project is actually a great example of that collaboration. I predict that there will be more and more issues that will be susceptible to that kind of intervention—and maybe only that kind of intervention.
I hope the Foundation remains as willing to take smart risks as it has been and will continue to take on big issues without narrowing its ambition. This work goes beyond the traditional role that foundations played in the past of bringing people together to talk through the issues. It's actually forming coalitions of organizations that all put money, time, and interest on the table. This would require more deliberate partnerships to develop the kinds of strategies that foundations can inspire.
Foundations get to look across many different fields and organizations to see many different approaches. To bring our perspective and data and fact-driven approach to solving complex problems in this way is very exciting.