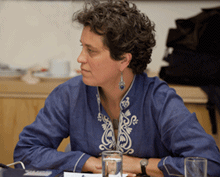 MENLO PARK, Calif. – The William and Flora Hewlett Foundation announced today that Fay Twersky has been named director of its Effective Philanthropy Group. Twersky, a Senior Fellow at the Foundation since October 2011, has been serving as acting director of the newly formed group since September 2012.
Twersky's team will support the Hewlett Foundation's ongoing efforts to improve its philanthropic practices and to help develop the field of philanthropy generally. The Effective Philanthropy Group brings together related functions that have previously resided in different parts of the Foundation to assume responsibility for both internal strategic functions and some external grantmaking. Team members will support the Foundation's programs in developing new strategies; measure and evaluate existing strategies and initiatives; offer internal organizational learning; and help strengthen the effectiveness of grantee organizations. The Effective Philanthropy Group will also be responsible for managing the Foundation's existing philanthropy grantmaking program.
Twersky has an extensive background in strategy, program design, and evaluation. She served for four years with the Bill & Melinda Gates Foundation, designing and developing its Impact Planning & Improvement division. There, she created standards and guidelines for developing strategies and measuring results across the organization's three program areas. She was also a founding principal of BTW informing change, a consulting firm that provides strategic support and guidance to foundations and nonprofit organizations. Most recently, she worked in Jerusalem, advising Yad Hanadiv (the Rothschild Family Foundation) on issues of strategy, organization, and measurement.
A noted speaker and author, Twersky has written numerous articles and reports. She holds bachelor's degrees in rhetoric and in Middle Eastern studies from the University of California, Berkeley, and a master's degree in city planning from the Massachusetts Institute of Technology.
"We are thrilled that Fay has agreed to take on this new challenge," said Hewlett Foundation President Larry Kramer. "Her keen strategic vision and sensibility have already been invaluable to the Foundation, and I know she will continue pushing us to become an even more effective organization."
"This is such a terrific opportunity to bring together a number of highly complementary functions at the Foundation into a single team," said Twersky. "I'm delighted to continue my work with such talented colleagues, both inside the Hewlett Foundation and within our grantee organizations."
Read more about the Effective Philanthropy Group here >>