Moving from theory to practice in equity, inclusion, and diversity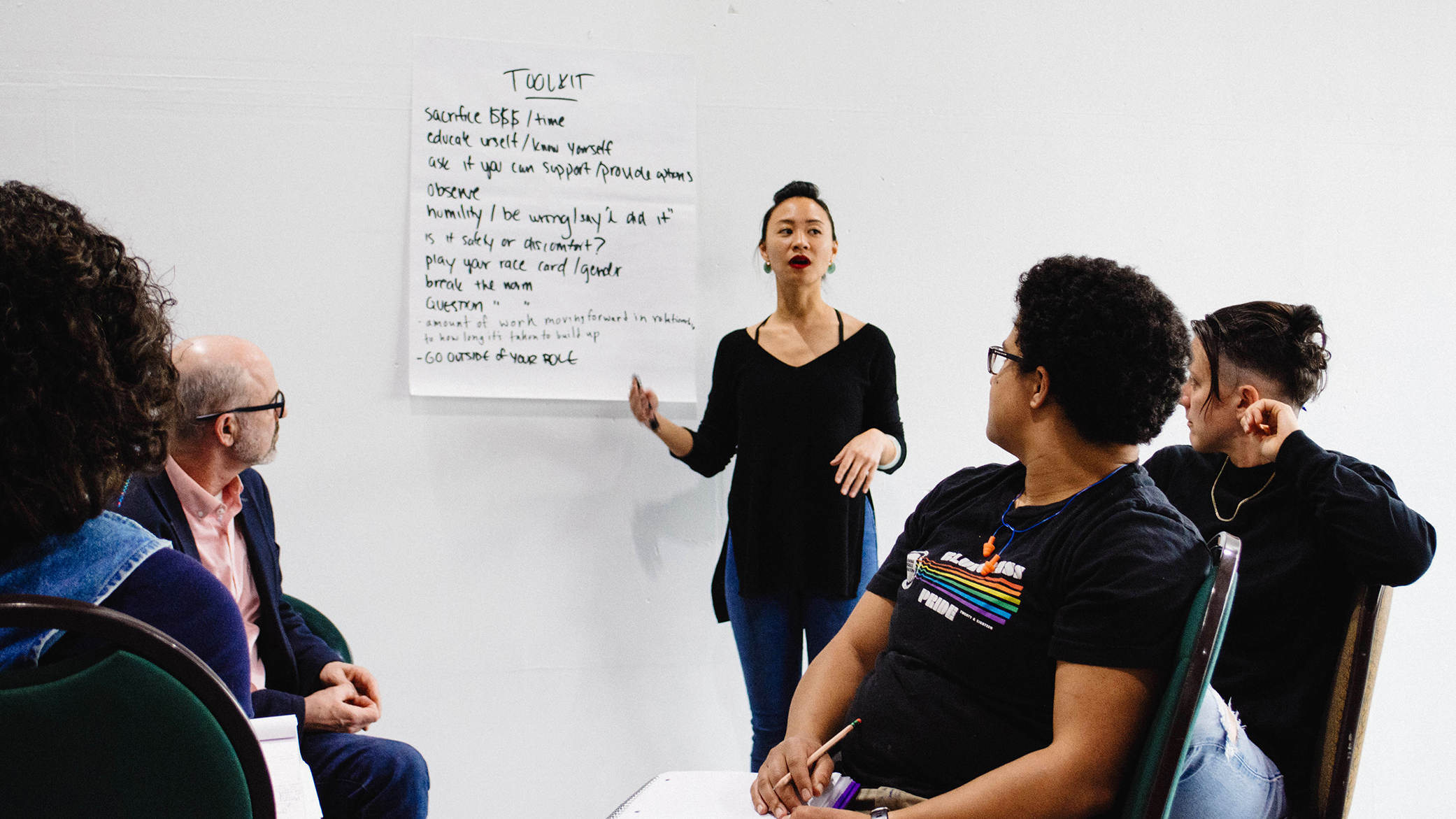 For a decade, people have made the case for the field-wide importance of advancing equity in the arts, but there have been challenges in translating data and reports on the topic into action and tangible impact. I was excited and curious when I was asked to join the Performing Arts Program's OE-EID Advisory Council. Excited because of the program's commitment to EID practice and willingness to experiment. Curious because unlike other efforts—including ARC and other innovative intermediary and collaborative grantmaking the program has done supporting EID work—this new process gave key decision-making power to equity experts and grantee members of the Advisory Council. The grantmaking process was itself heavily informed by the Advisory Council members' long histories of working in and with marginalized communities across multiplicities of difference—women, queer, trans, of color, native, Latinx, and disability justice. The Council brought its passion for the importance of our work together, and mutual respect to guard against practices of exclusion. For example, we welcomed video applications (not everyone has access to a skilled grant writer) and held a convening, open to all Performing Arts grantee organizations, focused on equity in the arts to guide organizations along a path to clear understanding of the goals and aims of the OE-EID grant process.
The Advisory Council sparked dialogue and change during the OE-EID grantmaking process by requiring applicant organizations to rate themselves along the Continuum on Becoming an Anti-Bias, Multicultural Institution. Applicants rated themselves from 1 to 6, with 1 representing an exclusive and segregated institution, and 6 representing a fully inclusive, transformed institution in a transformed society. The rating process was a compelling and instructive part of the application that helped panelists understand what "equity, inclusion, and diversity" meant to each applying organization, and allowed us as panelists to be grounded in our evaluation of the proposals.
What has stayed with me months after serving on the Advisory Council is that there was such a range of understanding about what EID meant. For some organizations, it was having more people of color on staff.  For some, it was re-thinking decision-making practices and looking at more distributed leadership models. For others, it was about broadening the range of who they serve and the artists whose work they present. The most compelling proposals had a view of EID that linked individual learning and reflection, collective practice, and institutional policy and procedural changes.
What was most significant to me as a member of the OE-EID Advisory Council was the intentional and thoughtfully created community of panelists. At times, it felt sacred to share space with a group of such brilliant and magical human beings. I was honored to be a part of it and learned so much from my colleagues. In a diverse and inclusive community, everyone acknowledges and educates themselves about historical and current systems of exclusion and oppression, and seeks to actively interrupt those patterns. There is special attention paid to ensure that people of color, immigrants, women, LGBTQI+/queer and transgender people, people from non-Christian religious backgrounds, low-income and working-class backgrounds, and people with disabilities are offered opportunities, resources and pathways to feel ownership and have a sense of belonging. There is intentionality to make sure that the vision, values, priorities, and decision-making processes truly reflect the diversity of those who are a part of the community. Though it wasn't always easy to do so, the Advisory Council reflected those priorities as expressions of our collective values.
The Performing Arts Program is doing the hard work of moving from theory to practice by testing new grantmaking models, allowing grantees to make grantmaking decisions, and soon launching a new strategy that deepens their focus on equity.  I'm proud to have been a part of helping the Performing Arts Program continue to think about how to move forward on these important issues. And I hope others learn from their lessons. As they do, I encourage them to be brave, to be imaginative, and to be bold.
Sheena Johnson MFA was the inaugural Performing Arts Fellow 2013-2015. Since then she has served as a Program Officer at the Akonadi Foundation and nonprofit consultant. She currently is the Vice President of Campaigns at Organize Florida, the largest grassroots social and economic justice organization in Florida.