As part of our commitment to openness and transparency, the Hewlett Foundation shares data about the demographics of our staff and board.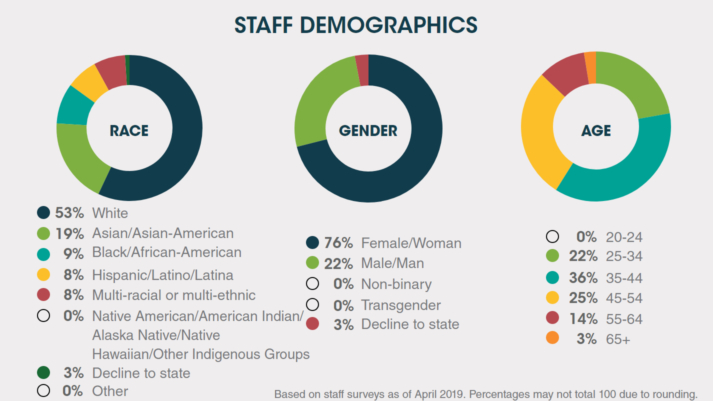 The data above are drawn from surveys of staff. Categories with respect to gender and race reflect how individuals self-identify.
Race categories are based on EEOC classifications. In 2018, the foundation changed the survey questions related to gender identity, adding non-binary and transgender categories, to align with data collection efforts related to grantmaking and to enable the greatest number of staff to participate. As of April 2019, the foundation's staff is 76% female, 22% male; 3% declined to answer the question. This is roughly consistent with recent years. In 2012, for example, the staff was 70% female, 30% male, and four years earlier – when we began collecting this data – 75% female, 25% male. (Prior to 2008, the foundation staff was under 100 people, and did not report or collect these demographic data.)
As of April 2019, the foundation's staff is 53% white, 44% non-white; 3% declined to answer the question. In 2012, that balance was 69% white, 31% non-white, which was roughly unchanged from four years earlier, when it was 70% white, 30% non-white.
The above data reflect our board of directors, which comprises 13 members, excluding the president, as of November 2017. In 2011, the foundation adopted new policies related to board membership. Four board members must be linear descendants of William and Flora Hewlett; there must be at least five but no more than 11 additional, independent board members. All but one of these board members serve three-year terms, with a limit of four terms. One of the family slots is for a "special director," typically from the next generation of Hewletts, who serves a single two-year term.